Mario Duquette
Jr. Midget Espoir
Riverain Collège
Charlemoyne
''I made the Midget Espoir thanks to Jasson who helped me increase my physical and mental strength…I plan on training with him next summer and with his help, make the AAA team''
Start date of training March 24, 2011
Age at the time of initial testing: 14 yrs
Results of tests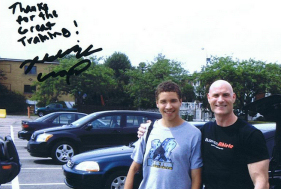 | | | | |
| --- | --- | --- | --- |
| | March 25, 2011  | April 22, 2011   | June 2nd, 2011   |
| Push ups  | 4  | 13 | 19 |
| Pull Ups | 3 | 14 | 20 |
| Long Jump  | 70 inches | 78 inches | 83 inches |
| Vertical jump | 9 inches | 11 inches | 13 inches |
| Weight | 170 lbs | 178 lbs | 185 lbs |
---
 Xavier Croxen
''Working with jasson was fun but at the same time you have to work hard, he encouraged me,explained the differents trainings to do,and followed me trough and i got to work in a environnement thats great for exercises and mind trainings . the mind training is interesting it is to build up your mental part for better focus during training time and performace for games ect.But you have to be ready to do all the homework that comes with it.I enjoyed my experience with jasson he is a wonderful guy to work with tha threats you with respect one of the most important things i think in this world,nice working with you Jasson''
 Xavier Croxen
---
Jeff Baikie
15 yrs
hockey player
"Training with Jasson has help me get me in shape, lose excess weight and help me get more focus on my sport and as help me be more confident as a person. I still need his training so that I keep on track".
---
Fraser Baikie
17 yrs
Provincial level Football
"Jasson helped me prepare for my season and help me conquer some physical weaknesses, get faster, be better prepared for my season...but most importantly he helped me get a better work ethic".
---
Lexi Meklensek
14yrs
"Hi I'm Lexi. I'm a 14 year old swimmer who ranks in the top 10 in Canada, for my age group.  I began working with Jasson this summer to build strength and power into my swimming performances.  Jasson's knowledge of strength training for young athletes like myself was a perfect match for my first exposure to a personal coach for dryland work.  Jasson was able to create a program to fit within my training and competition cycles.  He made sure the training incorporated teaching, so I understood what each exercise was for and how to do them safely and effectively.  Jasson balanced my training practices from in his workout studio to outside in the field next to the canal, offering me a variety which kept me fresh and excited for each training session.  His balance of hard work, coaching and motivation allowed me to succeed and build a base for my future strength training.  I highly recommend Jasson for working with elite athletes".